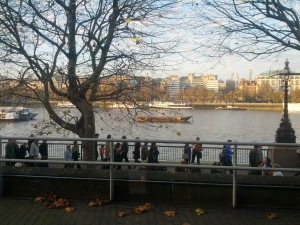 I followed up my two days at µCon with the LJC Open Conference. The third early start in a row was made a little more difficult by a late night – I gave a talk in Eastbourne the night before – but the sessions kept me alert. Rather than µCon's deep focus on one area, the Openconf was an opportunity to learn about many different things, with introductions to Spock and Cassandra, as well as a good discussion about Akka, actors and other methods of distributed computing.
I don't have a use for Cassandra yet, but it was good to learn more. In his talk, Chris Batey made an interesting point that abstracting out underlying data storage architecture can be a bad thing, since it hides the particular nature of that layer. For example, in Cassandra it is important to be aware of the partition key's meaning. The slides are online.
The lightning talks were excellent, including a spoof on devops and consulting by Daniel Bryant, who coined the term QAOps, as well as a report on mob programming. I also caught Daniel Bryant's presentation on microservices, which I'd missed at MuCon, having chosen the other track.
It was a good day out and excellent value. I'm very glad that I was able to go.