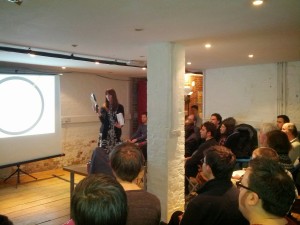 We had a packed session at Brighton Java last Wednesday, with Kim Knup from Crunch starting by discussing Agile Testing. The testing community is absolutely incredible and they've done so much to define their role within software development, moving it away from the unsophisticated idea of simply catching bugs.
The second talk was Luke Whiting on Micro services, micro effort. The slides and source code are now online.  I'm looking forward to playing with the tools that Brandwatch have been working with in this area.
The next Brighton Java meeting is on March 4th, with speakers to be announced nearer the time.  I don't know who it is yet, as I'm not organising this one. I'm looking forward to being able to relax a little more on the night.