I sometimes think I should have used a different name to Brighton Java. Maybe Brighton JVM would have been more appropriate. We've certainly had a wider range of talks than the name implies. But the name Brighton Java does seem to draw people in, and nobody complains about the eclectic selection of talks.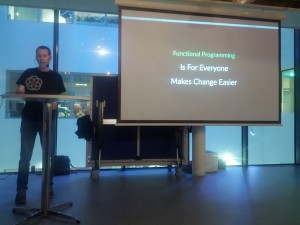 Last Wednesday we welcomed back Richard Dallaway of Underscore Consulting, who spoke about a day in the life of a functional programmer (slides here, with notes here) The talk was intended to communicate some of the exciting concepts available in Scala
You don't come away from a talk like this knowing how to work with Scala – but it gives a clear demonstration that there are other ways in which code can work. While Java has certainly added many features in recent years, the language is a far less interesting and expressive one than Scala. It's also interesting to see the way Scala supports different approaches to a same problem – Java, by comparison, tends to be more prescriptive about how to write code.
For Richard, Scala works better for modelling some things better than Java's class hierarchies – the talk worked as a good companion to Danielle's talk the month before.
We're hoping to start a Scala workshop as part of Brighton Java, based on Functional Brighton's Learn You a Haskell group. It looks like we will base the first sessions on Underscores Essential Scala book. More news on that soon.
It was a good meeting, sponsored by Brandwatch. As well as providing the venue and AV equipment, they supported us with a great abundance of pizza. Thank you!