Last week, I visited J-O-X, the Oxford Java user group, to give a talk on JHipster and to meet the organisers.
I've been running the Brighton Java group since 2012, when I founded it with David Pashley. The group has ebbed and flowed over the years and, together with the current organising team, we're always looking at ways to improve the group. Visiting different user groups is a part of this. It's a chance to see what has worked for them, and improvements we can make.
The other good thing about visiting Oxford was finally being able to visit the Pitt-Rivers museum, which was as strange and as wonderful as I'd been told. I saw lots of amazing things, including this figure. I wrote a story based on a photo of this, which was later printed as a postcard promoting the Quick Fictions app: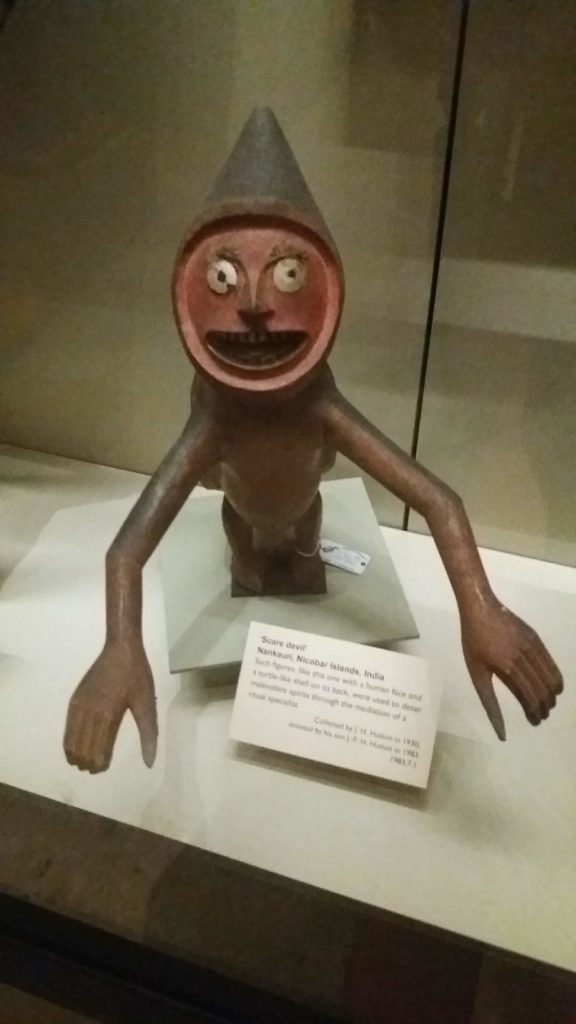 I don't think I gave the best delivery of my JHipster talk, being slightly spooked by technical issues that made me decide against the live demo. But people seemed to enjoy it, and I had some interesting questions, as well as some interesting discussions afterwards. I discovered that many of the people attending worked for the company Diffblue and had PhDs – it could have been a slightly intimidating crowd, but everyone was very friendly.
The other speaker was Pascal Kesseli, who spoke about DiffBlue's JBMC tool (also on github). It's a Bounded Model Checker that attempts to find bugs in software. Based on the demo, this looks like a fascinating technology, with the potential to find bugs in software that are not obvious, even after unit testing.
Thank you to Haybrook IT Resourcing Limited for organising the event, and to DiffBlue for their sponsorship.